Hyundai Canada Recognized by Great Place to Work
2017/11/28
Hyundai Auto Canada Corp. announced that it has been certified as a Great Place to Work after a thorough and independent analysis conducted by Great Place to Work Canada.
This is the first time the company has received the recognition which is based on direct feedback from employees, provided as part of an extensive and anonymous survey about the workplace experience.
"Hyundai's vision is to give every customer a great experience with world-class product, industry-leading customer service, and stand-out communications. Being able to do that depends entirely on a work environment where our team members are excited to be part of the organization and feel they make a difference every day," said Don Romano, President and CEO of Hyundai Auto Canada. "Being recognized as a Great Place to Work is as rewarding as it is humbling. The executive team places a high priority on building our corporate culture and encouraging employee engagement, so this is extremely gratifying news."
GPTW recognized three major elements contributing to Hyundai's certification. The first, Hyundai provides team members either a demonstration vehicle or a reduced lease rate for the company's newest vehicles, a benefit that includes other services such as insurance and maintenance. The second is a demonstrable commitment to team building with an annual event for department-or division-wide activities outside of the office and Hyundai's annual Core Value Week with events representing the company's five core values: People, Customer, Challenge, Collaboration, and Globality. Finally, Hyundai will match donations made to registered charities by all employees up to $100 annually.
"While it's great for Hyundai to receive recognition as a Great Place to Work, we know that certification is not a finish line. My team and I share the view that a nurturing work environment and supportive corporate culture as the result of sustained effort and investment at all levels of the organization. Which is why strong employee engagement is part of our annual corporate objectives," added Romano.
-Ends-
About Hyundai Auto Canada Corp.
Hyundai Auto Canada, established in 1983 and headquartered in Markham, Ontario, is a subsidiary of Hyundai Motor Company of Korea. Hyundai vehicles are distributed throughout Canada by Hyundai Auto Canada and are sold and serviced through more than 210 dealerships nationwide. Hyundai is also the first to offer its zero-emissions Tucson Fuel Cell Electric Vehicle to Canadian customers. More information about Hyundai and its vehicles can be found at www.HyundaiCanada.com.
We think you'll like this, too: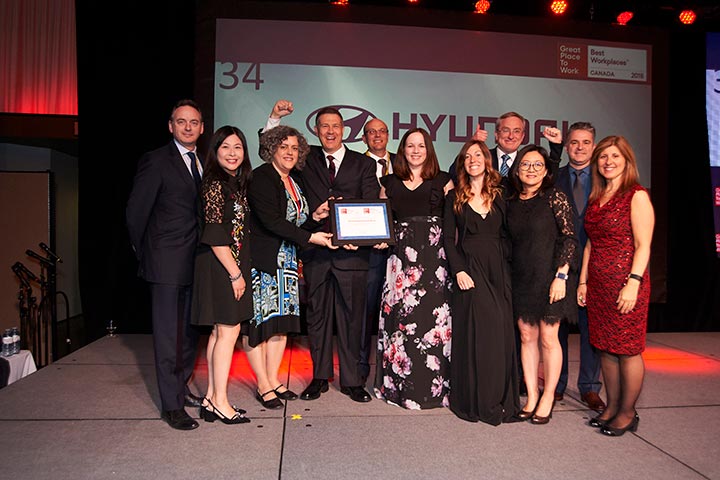 Hyundai Auto Canada Corp. recognized as a Best Workplace™
Hyundai Auto Canada Corp. is being recognized as one of this year's Best Workplaces™ in Canada, and will be included in a special report on Friday, April 27, 2018 in The Globe and Mail.