Get Details About Your Warranty Coverage
As a condition of your vehicle's warranty, you are responsible for properly maintaining your vehicle. Here's where you can learn if your vehicle is still under warranty and what it covers.
New Vehicle
HYUNDAI AUTO CANADA's New Vehicle Limited Warranty covers described components for 60 months from the Warranty Registration Date, or 100,000 KM, whichever occurs first.
WHAT IS COVERED
Any original component that is found to be defective in material or workmanship under normal use and maintenance, except components specifically covered under any other section of the HYUNDAI AUTO CANADA Corp. Warranty.
WHAT IS NOT COVERED
The following is not covered, unless specifically stated in HYUNDAI AUTO CANADA CORP. policy or coverage:
Normal maintenance service:
Including checking, tightening, adjusting, engine tune-ups, fuel system adjustment, wheel toe & balancing, cleaning, lubrication, oil changes, replenishment of fuel,engine oil, transaxle fluid, brake fluid, clutch fluid, power steering fluid, anti-freeze coolant, windshield washer fluid, air conditioner refrigerant, headlight aiming and tire rotation.
Normal replacement of service items:
Including spark plugs, wiper blades, fuses, worn brake and clutch linings, filters, lamp bulbs, belts, tires, hoses, hardware and other similar consumables.
Any vehicle that has been scrapped and a certificate of salvage has been issued for the vehicle


Damage or failure resulting from:

Negligence of proper maintenance as specified in the Owner's Manual and this Service Passport.
Misuse, accident, theft or fire.
Use of parts other than Genuine HYUNDAI Parts.
Modification, alteration, tampering or improper repair.
Any device and/or accessories installed by any parties other than HYUNDAI.
Deterioration of rubber parts, upholstery and soft trim under normal use and exposure.
Slight irregularities not recognized as affecting quality or function of the vehicle such as slight noise or vibration, or items considered characteristic of the vehicle.



Tires


Consequential damage:
Such as fuel, telephone, travel, lodging, inconvenience, commercial and/or personal loss and loss of use of the vehicle are not covered.
OWNER'S RESPONSIBILITIES
Proper use, maintenance and care of your vehicle in accordance with the instructions contained in this booklet and in your Owner's Manual.
Aluminum is subject to corrosion due to environmental conditions. (Be sure to give aluminum alloy wheels special attention in winter. If you drive on salted roads, clean the wheels thoroughly afterwards.)
Retaining maintenance service records. It may be necessary for you to show that the required maintenance has been performed.
Delivering the vehicle during regular business hours to an authorized HYUNDAI Dealer to obtain warranty service.
Check for trim, paint or other appearance defects at the time the new vehicle is delivered.
The care and maintenance of a working odometer, so that the total accumulated distance traveled can be readily ascertained.
Covered Components
Months
Or
KM
Dealer Installed Accessory
Unless otherwise stated, the HYUNDAI Dealer-Installed Accessory Limited Warranty coverage is 36 months or 60,000 KM from the Warranty Registration Date, whichever occurs first. If installation occurs after the Warranty Registration Date, warranty coverage is 12 months from the installation date, regardless of distance traveled, or the balance of the 36 months or 60,000 KM coverage, whichever is greater.
WHAT IS COVERED
Any HYUNDAI Accessory installed in a HYUNDAI vehicle for which it is designed, which is found to be defective in material or workmanship under normal use and maintenance.
WHAT IS NOT COVERED
"What is not covered" and "Owner's responsibilities" are as specified under the New Vehicle provisions.
Covered Components
Months
Or
KM
Road Side Assistance
WHAT IS COVERED BY THE HYUNDAI 24 HOUR ROADSIDE ASSISTANCE PROGRAM

Roadside Assistance Calls:
The following roadside services will be provided at no expense.
Fuel delivery service
Flat Tire changing service
Lockout service
Battery boosting service
Mechanical first aid
Towing service
Winching/Extrication service
Trip Interruption assistance service
*HYUNDAI 24 Hour Roadside Assistance is not a warranty, but a service provided to you in conjunction with our warranty, as part of the HYUNDAI satisfaction commitment to trouble free vehicle operation.
EV System
HYUNDAI AUTO CANADA CORP. EV System Warranty covers the described components up to a total of 96 months from the warranty registration date, or 160,000 KM, whichever occurs first.
WHAT IS COVERED
The following original EV system components which are found to be defective in material and/or workmanship under normal use and maintenance will be covered during the "Warranty Period" described above:
Motor, Inverter unit, VCM, Reduction gear, DC/DC converter, Onboard charger, Onboard charger connector, Trickle charge cable, In Cable Control Box, High Voltage Battery.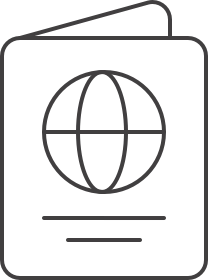 Download Your Service Passport
This document has all the information you need to enjoy years of trouble-free driving.