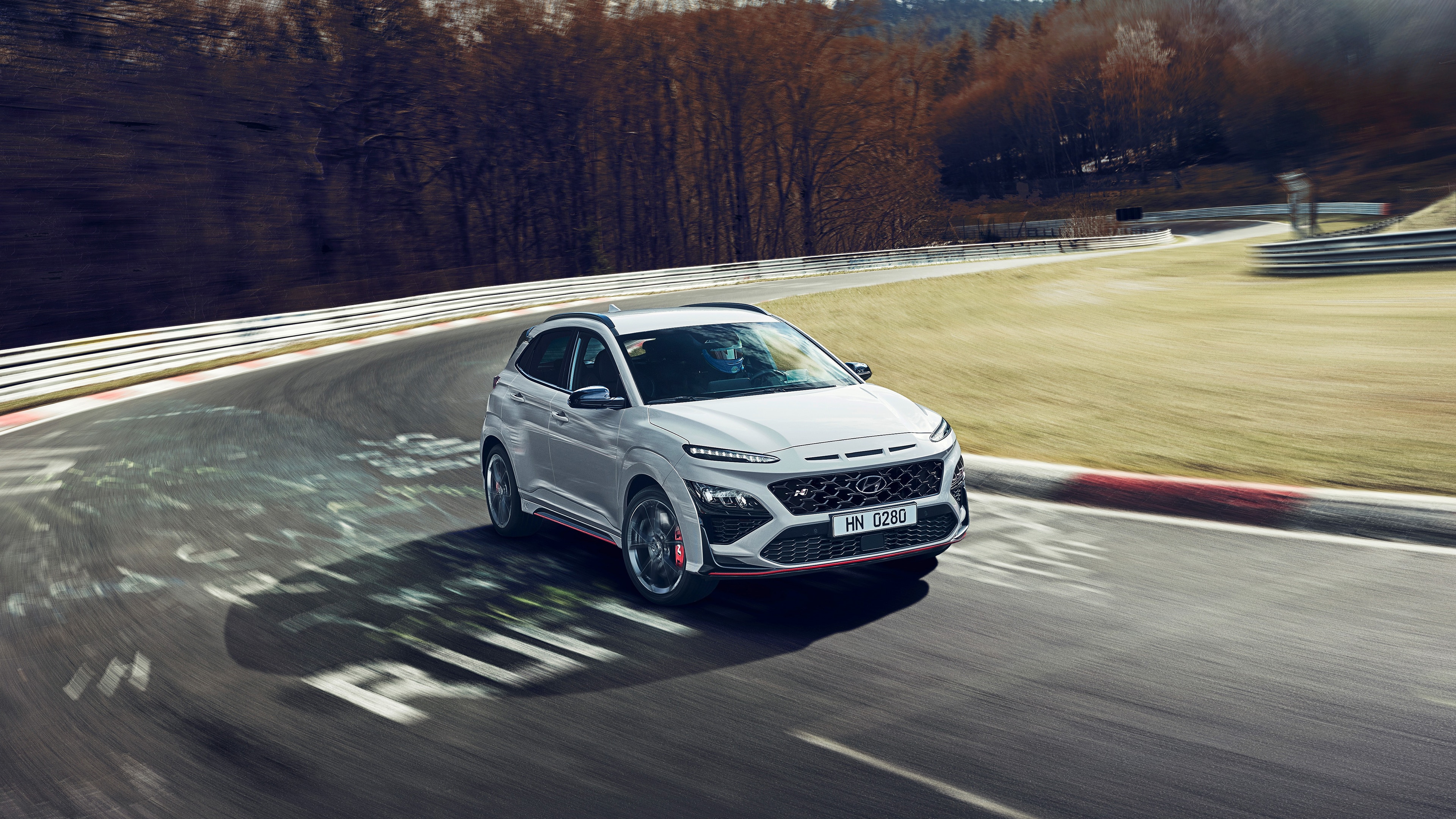 Pre-production model shown. May not be exactly as shown.
The first-ever 2022 KONA N.
Arriving Winter 2021.
Introducing the KONA N.
Pulling up to the starting gate, the first-ever 2022 KONA N has arrived. Introducing a high-performance SUV for all driving enthusiasts. This adrenaline inducing SUV is sure to get your heart pumping with everything that makes the N exciting to drive – from customizable drive modes to a 2.0L turbocharged GDI engine. Get ready to feel the wind through your grin.
It's main mission: Complete exhilaration.
The white-knuckle, sporty N-model truly brings more to the road. It's wide, muscular stance is accentuated by lightweight 19" forged alloy wheels, backed by high performance brakes that maximize heat endurance letting you hit the apex on every turn. Combined with exclusive driving features – including N Grin Shift (NGS), N Power Shift (NPS) and N Track Sense Shift (NTS) – it sets the tone for all your adventures.
2.0L turbocharged GDI engine
Attack the road with a 2.0L turbocharged GDI engine cranking up to 276 HP with N Grin Shift and 289 lb.-ft of torque.
8-speed wet dual clutch transmission (N DCT)
This transmission control unit is specially calibrated for N, resulting in better performance with faster shifting and increased acceleration.
N mode and custom modes
The KONA N offers optimized drive modes that respond instantly from relaxed daily driving to track ready performance – depending on the driver's preference. Toggle between Eco, Normal, Sport, N and Custom for maximum driving fun.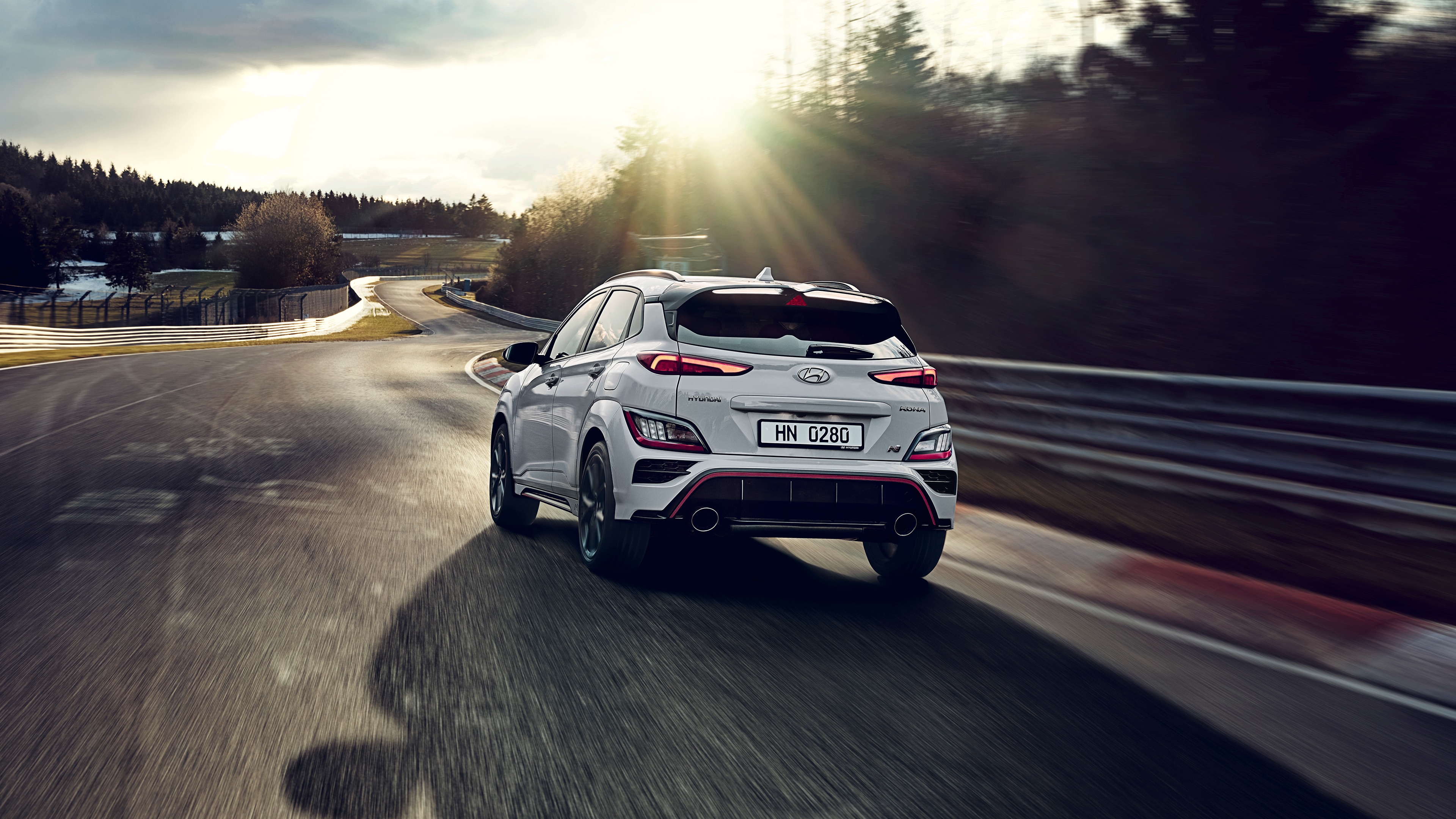 Pre-production model shown. May not be exactly as shown.
One powerful presence.
This spirited machine prides itself on its unique and unconventional styling. The moment you step inside you'll be welcomed with striking N-specific details such as the Performance Blue accents, seats, steering wheel, shift knob and metal petals for a complete customized experienced. It truly blends the world of exciting and entertaining.
10.25-inch touchscreen navigation
The KONA N compliments its high-performance driving with a stunning high-definition 10.25" touchscreen with navigation.
10.25-inch digital instrument cluster
The available 10.25" full digital instrument cluster delivers an impressive modern interface with a one-circle design which allows you to glace quickly at all the important information.
Head-Up Display
The exclusive racing Head-Up Display (HUD) adds a game-like dimension to your drive and helps you stay safe by projecting important information that drivers look at most.

Pre-production model with optional features shown. Specifications, equipment, and options are subject to change without notice. Some items may be unavailable when vehicle is built. Ask your dealer about availability of options and verify that the vehicle includes the equipment you configured.