Driving is fun with lower emissions.
Our hybrid models – one of which is Canada's most fuel-efficient car* – leverage two different, yet very efficient, sources of energy. One is a powerful internal combustion engine and the other, an efficient electric motor. They utilize these two energy sources seamlessly and will automatically switch between gas power, electric power, or both, to optimize power and fuel efficiency based on the speed and type of driving you're doing.
Frequently asked questions about hybrids.
How do hybrid vehicles work?
Hybrid vehicles utilize both an electric motor and a gasoline engine, adapting the usage between each based on speed and the rate of acceleration. Heavier acceleration needs both the gasoline engine and electric motor, while lighter acceleration can sometimes be accomplished solely using electric. A hybrid vehicle is always adapting to meet your driving needs with the utmost efficiency.
Do you plug in a hybrid?
No. A hybrid vehicle automatically charges its battery in two ways – through the electrical energy generated by the gasoline engine and through a clever process called regenerative braking which recaptures the energy of slowing down your vehicle and converts it to electricity which, in turn, gets stored back in the battery. No. A hybrid vehicle automatically charges its battery in two ways – through the electrical energy generated by the gasoline engine and through a clever process called regenerative braking which creates an electrical charge whilst slowing down.
What is the advantage of a hybrid vehicle?
A hybrid vehicle provides optimized power and improved fuel economy, with the capabilities of being fueled like a regular gasoline vehicle. No need to plug in or install an at-home charger.
What is the difference between a Hybrid Electric Vehicle (HEV) and Plug-in Hybrid Electric Vehicle (PHEV)?
A hybrid electric vehicle and a plug-in hybrid electric vehicle both utilize their powerful electric motor and a gasoline engine to generate movement. They adapt on their own using both the electric motor and gasoline engine simultaneously based on the current driving conditions. Both vehicles also use regenerative braking, the most efficient way of putting energy back into the electric battery. This is the process of recovering energy that would otherwise be lost during deceleration so it can be reused to propel the car once acceleration is required.
The key differences between the two is that the plug-in hybrid has a larger electric motor and greater battery capacity allowing it to be used for a greater range of operation and distance. The plug-in hybrid plugging into an external electric source while the standard hybrid is solely fueled like a conventional gasoline vehicle.
You May Also Be Interested In These Other Alternative Powertrain Options
Plug-In Hybrid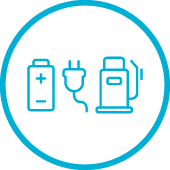 Plug-In Hybrid
VISIT PAGE
Electric when you want it. Gas when you need it. Enjoy the best of both worlds with our plug-in hybrid powertrain vehicles.
Electric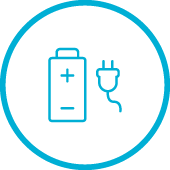 Electric
VISIT PAGE
Operating solely on electric power, our electric powertrain vehicles produce zero driving emissions.
Fuel Cell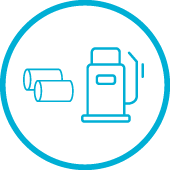 Fuel Cell
VISIT PAGE
An electric vehicle that powers through an electrochemical process, combining hydrogen and oxygen gases in a fuel cell stack. The only exhaust emission is pure water vapour.
*2021 IONIQ Hybrid Essential: 4.0 City/3.9 Hwy/4.0 Combined. Claim based on Natural Resources Canada (NRCan) fuel economy figures for comparison only. Claim based on NRCan combined L/100 km as of December 2020. Based on NRCan ranking, which excludes plug-in hybrid and electric vehicles.
ΩCalculated based on a fully charged battery. Fuel economy figures are based on manufacturer's testing and are used for comparison purposes only. Actual fuel efficiency may vary based on driving conditions and the addition of certain vehicle accessories.
Stay up to speed.
Sign up below to receive future communications about alternative powertrains.